Gang Bambi est un petit animal nocturne qui aime bondir sur des tracks électro-trasho-happy-sensuels, le tout saupoudré de paillettes. Accessoirement, c'est aussi une soirée qui prend son envol et nous revient en format XXL à la Java le 15 septembre prochain. On en a profité pour poser quelques questions musicales aux DJs. Interview musicale en 2 parties, on commence par  Nannä Volta & Bosco !
Un morceau qui met la pêche le matin ?
Nannä Volta : The Clash – Rock the Casbah
Bosco : Mighty Mouse – See Through You feat. Ronika (Original Mix)
Le morceau quand on n'a pas trop le moral ?
Nannä Volta : Sophie Hunger – Le Vent nous portera
Bosco : Infected Mushroom – Trance Party
Votre morceau préféré du moment ?
Nannä Volta  : Unknown Mortal Orchestra – Multi-Love
Bosco : New Order – Crystal (Ri Za Remix)
Le morceau parfait pour faire l'amour ?
Nannä Volta : Kings Of Convenience –  »24-25 »
Bosco : Liftboi – All You Need Is Schlaf
Le morceau un peu honteux mais que vous aimez d'amour quand même ?
Nannä Volta : She's On Fire by Amy Holland
Bosco : Kumi Solo – Coeur Frag
Le morceau que vous écoutez pour vous faire belles et beaux avant une party ?
Nannä Volta : Hot Chip – Flutes
Bosco : Mai Lan – Les Huîtres (Brodinski Remix)
Le morceau que vous rêveriez de jouer à une Gang Bambi ?
Nannä Volta : Lindstrom – I Feel Space
Bosco : Darlyn Vlys – Stranger
Le morceau qu'on écoute en descente quand la fête a été trop folle ?
Nannä Volta : Hansmann & Klausing – Who are you?
Bosco : Joe Hisaishi -Ashitaka and San
Le morceau qui illustre le mieux votre mood là tout de suite ?
Nannä Volta : Joakim – Forever Young
Bosco : Boy George – YMCA Cover
Et si je vous dis « Friction » ?
Nannä Volta : Demon vs Heartbreaker – You Are My High
Bosco : David Courtin –  L'hymne À L'amour
PROCHAINE GANG BAMBI :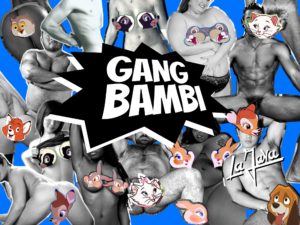 🖤🖤🖤
https://www.mixcloud.com/Boscoparis/